Cary Economic Development is the primary agency for the development and expansion of new and existing business in the Town of Cary. We work with companies large and small providing guidance and resources for relocation, expansions and starts.
Matt Kimble – Director of Communications and Research, Cary Chamber of Commerce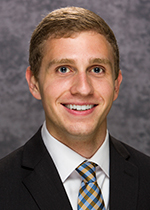 Matt is the Director of Communications and Research at the Cary Chamber of Commerce and assists with economic development efforts for Cary. He is in charge of Cary Economic Development's marketing, branding, social media and research efforts.
Matt grew up in Cary and recently graduated from the University of North Carolina at Chapel Hill with Bachelor of Arts degrees in public policy and political science. He is also an Eagle Scout, and outside of work, Matt enjoys hiking, mountain biking, and cheering for Carolina basketball.